Gabriella Zakrocki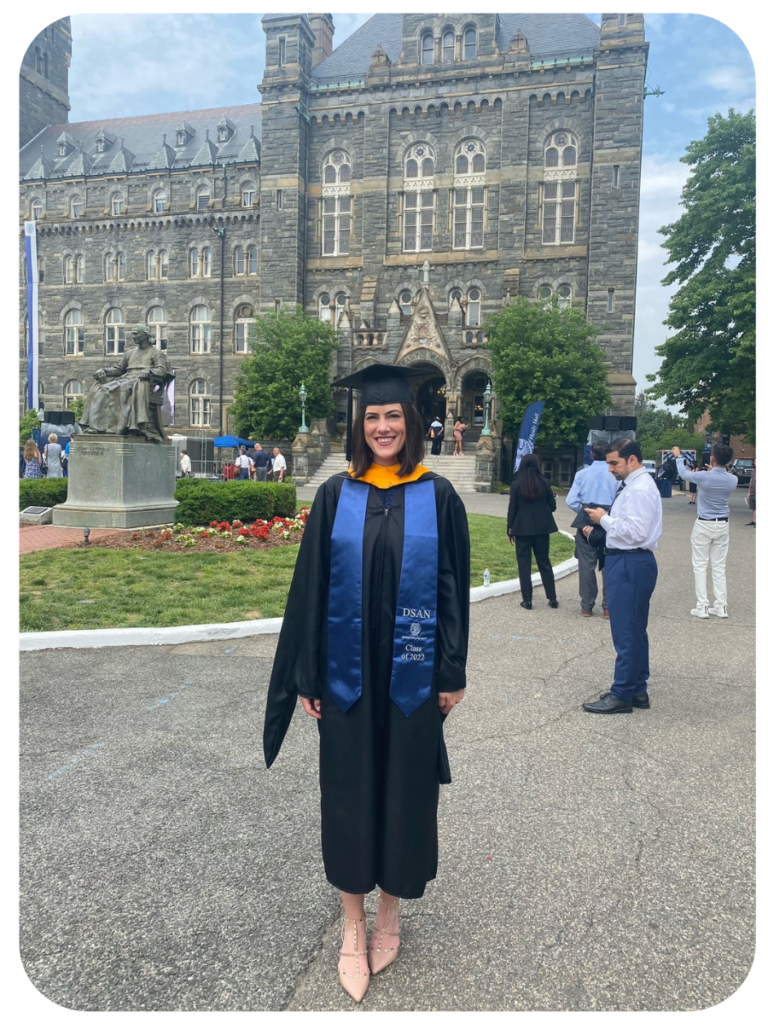 DSAN '22
Data Scientist at Sony Pictures Entertainment
---
How has acquiring your master's degree impacted your career journey?
Throughout the master's program, I was working full-time and took classes part-time. I wanted to accelerate my career once I graduated and gained a solid foundation. I graduated in May 2022 and started applying for jobs with the technical opportunities I was looking for. The past three years at Georgetown provided me with the leveraged ability to gain so much knowledge and experience which I would not have been able to do outside of the classroom.
What inspired you to pursue a career in data science and analytics?
I studied mathematics in my undergrad and have always loved logical thinking. I find data science and analytics to be the perfect balance of logic and creativity. On top of that, data is everywhere! Data science can be used in any professional field, which is awesome for job opportunities.
Why did you choose the DSAN program?
I chose the DSAN program because of its flexibility and faculty. I was working full-time and seeking a program where I could continue working while I studied. Georgetown's DSAN program let me work during the day and take night classes part-time. The other aspect that I loved was the in-person classes. I didn't want to complete a degree online; I wanted to feel the community and build relationships with faculty and classmates. Needless to say, it was the best choice!
What were some of your best experiences in the program, both inside and outside the classroom?
The projects, labs, and relationships I've made. Inside the classroom, the projects and labs were so helpful. Everything we've built and worked on was all from "real-world" data sources and important topics. It was great to be able to continuously build a portfolio of past work. 
The relationships I've made with the faculty and my classmates have been priceless and there has been so much support from classwork and networking.
What was your favorite DSAN course at Georgetown? Why?
This is a hard question! If I HAD to pick, I'd say Massive Data Fundamentals because it provides you with tools/skills that are so imperative in Data Science. There is loads of data out there! Most models have to be trained in the cloud. Not to mention, the instructor is fantastic and super helpful.
How have you found support as a woman in tech?
Starting out in data science was a little shaky for me. I had no friends in this field and no network, but within this program, I ended up finding so much support that branched out. From my classmates to the faculty, I've never lacked guidance. Even during the pandemic, there was always support and encouragement to work hard and gain experience. I am so thankful for my time at Georgetown.
What are you reading/watching/playing/listening to/learning right now?
I'm undeniably an avid book nerd and have a few currently in rotation. They are – Just Kids by Patti Smith, Jamaica Inn by Daphne DuMaurier, and Rubicon: The Last Years of the Roman Republic by Tom Holland (not Spiderman). I am also thrilled about the two new Red Hot Chili Pepper albums that came out this year, so that's what I've been listening to (especially while I code).