Purna Gamage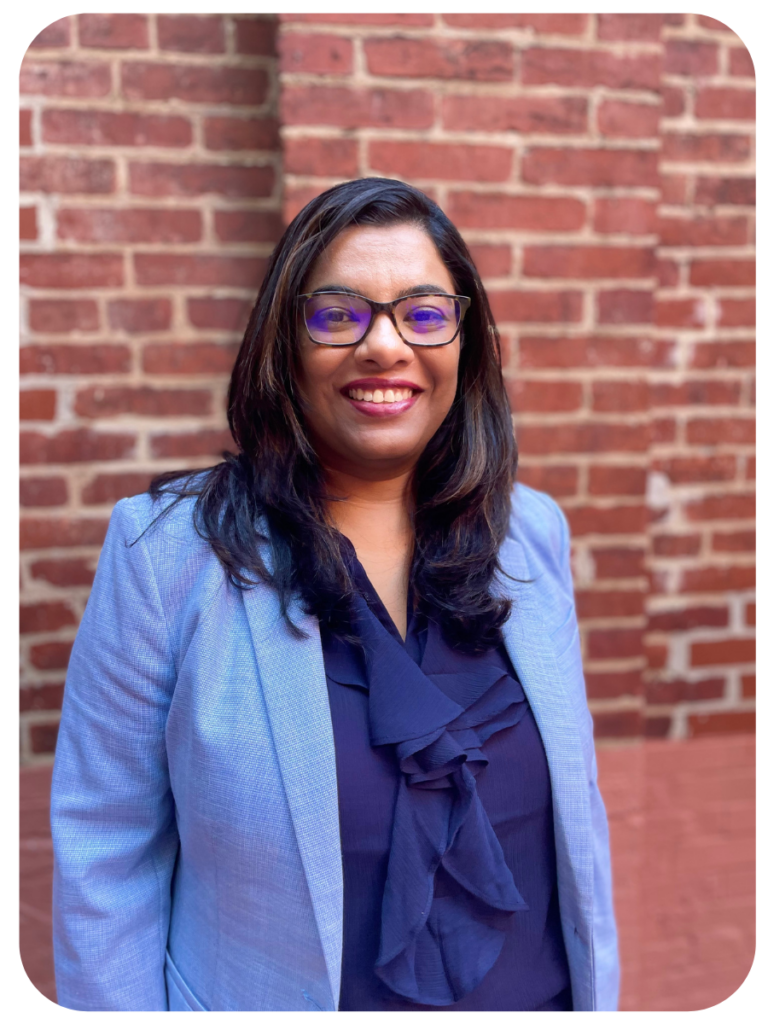 Who had the greatest influence on your education and/or career path?
The greatest influence on my education and career path undoubtedly comes from my father. His own aspirations and experiences played a pivotal role in shaping my journey. My dad had always dreamed of becoming a professor, but due to various circumstances, he ended up working in the banking industry instead. He has never lost sight of his academic passion, which left a profound mark on me.
I consider myself privileged to have had the opportunity to pursue a career in academia, ultimately becoming a professor at this prestigious institution. Throughout this journey, my parents have been my pillars of support. They have encouraged and stood by me every step of the way, and they take immense pride in my achievements. This, and the constant source of inspiration I received from my mentors and professors throughout my life, has fueled my determination to succeed. 
Today, I am a female leader in academia, providing valuable contributions to society through education, and it is incredibly gratifying to have the opportunity to impact students' lives and help shape the future generation. 
Why were you drawn to statistics?
I was always naturally drawn to statistics. Statistics make sense of the world, and I understood statistics easily. Getting straight A's in my statistics classes during my undergraduate program in Sri Lanka (the second-ranked university in the country) made me love the subject even more!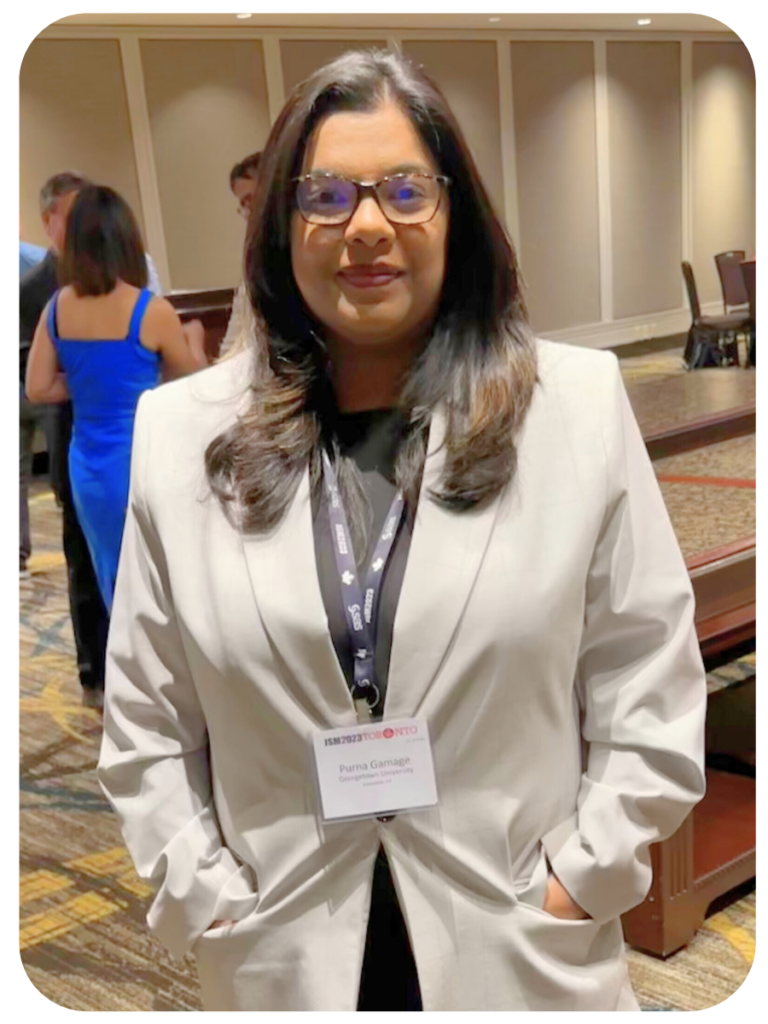 What captivates me most about statistics is its ability to explain the intricacies of the world around us. Statistics is a powerful tool that allows us to dive deeper and understand important phenomena in the world in so many different areas, whether it's in the realms of social dynamics, finance, healthcare, environmental impacts, or politics, among many others.
The fascination of statistics lies in its universal applicability and its capacity to facilitate informed decision-making across diverse fields. It has the potential to transform raw data into valuable knowledge, allowing us to address complex problems and contribute to the betterment of society. This multifaceted nature of statistics continues to fuel my passion for the subject and my dedication to harnessing its potential to positively impact the world.
What do you enjoy most about your work?
First, I love working with students, interpersonal communication comes naturally to me, which enables me to connect with and guide students, which is immensely rewarding. My role involves leading and shaping our students into not only skilled data scientists but also compassionate and critical thinkers. Watching them grow and evolve into kind and capable leaders is a deeply gratifying aspect of my career.
Moreover, I love being in the data science field. It's a dynamic and ever-evolving discipline, which means there's always something new to learn and explore. The practicality of this field is particularly exciting because it allows me to apply my knowledge to make a positive impact on the world. This aspect of my work constantly fuels my enthusiasm.
I must also mention the incredible environment here at Georgetown University.  The entire Data Science and Analytics Program (DSAN) team feels like family to me. Getting immense support and motivation from my team and true appreciation from the dean of the graduate school, confirms the fact that a positive and supportive work environment is crucial, and I'm fortunate to have found that here.
What's the first piece of advice you would give to a DSAN student?
The first and foremost piece of advice I would offer our students is to always be kind and professional. While technical skills are undoubtedly essential, what truly sets you apart in this field is your ability to maintain a respectful and courteous demeanor while collaborating with colleagues and clients alike. Always go above and beyond in your work, interactions, and responsibilities, as this not only enhances your reputation but also fosters strong and lasting relationships within the industry.
Additionally, it's crucial to remember that in the realm of data science, a deep understanding of the underlying modeling frameworks is very important. Technical proficiency is valuable, but being a true data scientist requires the ability to understand the intricacies of the modeling processes and their implications. Continuously invest in enhancing your knowledge and skills in this area to excel in the field and contribute to making a positive impact on the world. 
What would people be surprised to learn about you?
I'm a Sri Lankan traditional (Kandyan) Dancer.
What is the most gratifying part of being the DSAN Program Director?
The most gratifying part of being the DSAN Program Director is the opportunity to witness the growth and development of our students and get a chance to make our students' lives better 
In my capacity as program director, I can play a pivotal role in shaping the program's structure and curriculum, which, in turn, directly contributes to the development of our students' education.  Beyond the scope of imparting technical knowledge, my role involves guiding and mentoring our students to become not only skilled data scientists but also compassionate and critical thinkers. Seeing them evolve into kind and capable leaders is a deeply rewarding aspect of my career. It's immensely gratifying to watch them embrace the values of empathy, integrity, and professionalism while honing their technical skills.
Being able to contribute to the personal and professional development of our students and knowing that I play a part in shaping the future generation of data scientists is a source of great pride and fulfillment. It underlines the significance of my role and my commitment to providing them with the best possible education and mentorship.
What's the best advice you've ever received?
The best advice I've ever received is that there will always be work, and it will still be waiting for you when you wake up tomorrow (unless it's an emergency). Therefore, it's crucial to take time for rest, enjoy moments with your family, and make sure to have personal time for yourself. This advice emphasizes the importance of work-life balance and serves as a reminder that while our professional pursuits are significant, taking care of our well-being and maintaining a healthy life outside of work is equally essential for long-term success and happiness.
How do you hope to influence the direction of the DSAN program?
One of my primary goals is to evolve the DSAN program into a dedicated Data Science Center. This expansion would create a hub for data science research, innovation, and education. It would serve as a focal point for collaboration between academia and industry, facilitating partnerships, research projects, and internship opportunities for our students.
I also aim to broaden the horizons of our students by providing them with a wider array of opportunities. This includes forging partnerships with organizations, both locally and globally, to offer internships, co-op programs, and research initiatives that align with the evolving demands of the data science field. By enhancing their exposure to real-world applications, we can better prepare our students for successful careers.
The DSAN program has immense growth potential. My vision is to expand it not only in terms of student enrollment but also in its academic offerings and provide more opportunities for student growth. I envision the program evolving into a full-fledged department, offering undergraduate, graduate, and potentially even doctoral programs in data science to cater to a broader spectrum of students.
Expanding the program to include a Ph.D. offering is a long-term objective. This would enable us to contribute to cutting-edge research in data science, foster innovation, and produce the next generation of thought leaders and researchers in the field.
What 3 things would you want with you on a deserted island?
One I would like to have would be my phone if it has a signal so that I could talk to my family. 
But this may not be the case. I also don't want to say that I want my family there with me because they will have a better life not being on a deserted island.
So I would go with a knife- for survival and to find food, a box of matches-  to make fire until I learned to make my own fire and some kind of a transmitter where I could send SOS messages.