Data Science & Analytics Military Scholars Support
We strongly believe in supporting the education and professional growth of active-duty military students.
The DSAN Program offers one full-tuition scholarship (including mandatory fees) and one 50% tuition scholarship to active-duty military service members every year.
Before applying for the Military Scholarship, students must first apply to the MS Data Science and Analytics program via the Graduate School application site (new window). The deadline to apply for the scholarship is January 15. Scholarship winners will be notified no later than February 15.
Previous Scholarship Recipients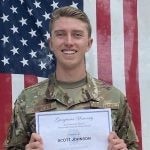 I am honored and humbled to have been presented a Military Scholarship from the Georgetown University Master of Science in Data Science and Analytics program. The graciousness and continual support by this program for current active-duty military students is exceptional. This opportunity will better enable me to serve my country in the United States Air Force in an unparalleled capacity. For this, I am forever grateful to the Georgetown University Data Science and Analytics program faculty and staff, as well as my outstanding Hoya classmates.
– Scott Johnson, 2nd Lt US Air Force, 2021 scholarship recipient
---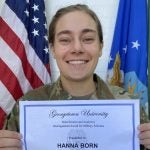 I am incredibly grateful to Georgetown University and the Data Science and Analytics program for their generosity and trust in supporting active-duty service members. The program provides a one-of-a-kind learning opportunity while also fostering civ-mil relations between our two professions. Matriculating in a renowned civilian institution led by incredible and supportive faculty and engaging with extraordinary classmates from every corner of the globe has enabled me to view real world problems through a different prism, providing the skill sets necessary to confront future challenges posed by a rapidly changing world. I believe that I and other service members privileged enough to attend Georgetown's DSAN program will broaden our horizons and return to serve our nation greatly enriched, more globally aware and better prepared to make a difference.
– Hanna Born, 2nd Lt US Air Force, 2020 scholarship recipient
---