DSAN and DataKindDC Partner for a DataDive for Social Impact
Posted in News Story
One of the core goals of our program is to instill in our students an appreciation for the intersection of big data and its use for the purposes of policy and social good.
On Saturday, October 22, we partnered with DataKindDC for an all-day data dive, allowing our students to work in real-time alongside local volunteer data scientists on projects for four nonprofits to move the selected organization's programming forward and benefit the communities they serve.
Many smaller nonprofits simply do not have the budget to employ a team of dedicated data scientists. That's where our students, DataKindDC, and the volunteer data scientists come in. As attendees rolled up their sleeves to begin data wrangling, there was palpable excitement at the prospect of what their analysis might uncover.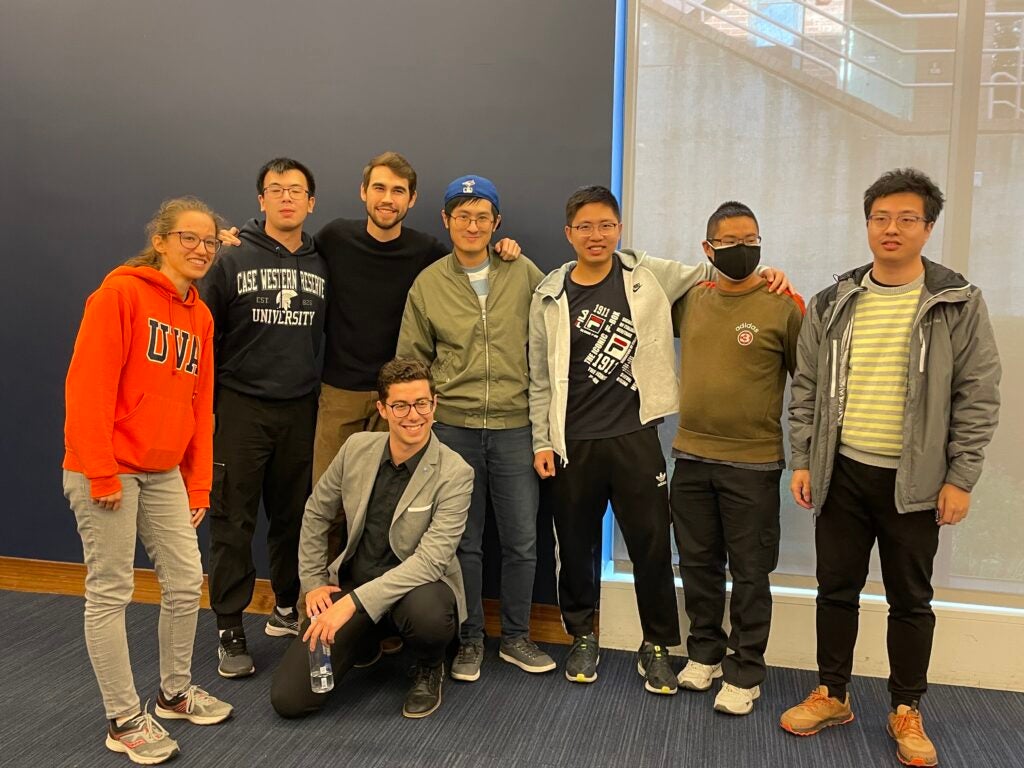 The data projects encompassed diverse topics, allowing our students to apply the skills they are learning to real-world questions that have a direct impact on local, national, and global scales:
Save the Children focused on enhancing interoperability between their databases and numerous, publicly available data sets to provide insight into food insecurity and related needs. Special focus was placed on creating an automated database that could be replicated quickly in new regions.
GET Cities' focus was on parsing and analyzing survey data to understand the trends among both women and queer people who stay and leave the tech field in the Chicagoland area, drilling down on trends like advancement/promotion, inclusion, management, compensation, parental status, and representation.
Starting with Today used internal and external data sets related to mental health, financial instability, unemployment, racial wealth gap, etc., to pinpoint areas in the DMV region that would benefit from their programming.
Education for Employment sought to predict success in job placement and retention among graduates from their program.
At the conclusion of the event, several of our DSAN students presented their groups' findings, giving them a chance to practice the all-important skill of data storytelling!
First-year DSAN student Cynthia Ng worked on the GET Cities project and shared that, "It was an unforgettable experience to work with diverse team members, from data science students to industry professionals, on an issue that I care deeply about."
Corrina Calenoc, another first-year student, "loved getting the chance to chat with a [DataKindDC] Data Ambassador volunteer over lunch about having a career in a mission-aligned organization and the various ways using data can help these organizations, or even hurt them when it comes to philanthropic pressures."
"One of the biggest challenges faced by data science students nearing graduation is a lack of real-world experience," second-year student Daniel Cisek pointed out. "Technical skills are vital, but so too is experience applying emerging technologies to actual business problems. Taking part in a hackathon enables students to apply their skills to solving some of the most critical and impactful problems faced by nonprofits across DC. Events like these are a huge resume booster, and also can often lead to job opportunities later down the road… [I believe] these opportunities provide a growing experience for us, arming us with the skills, expertise, and now hands-on experience helping organizations solve tough societal and business problems across the globe, that will help us succeed as we enter the job market."