DSAN Student Honored at Graduate Student Awards Ceremony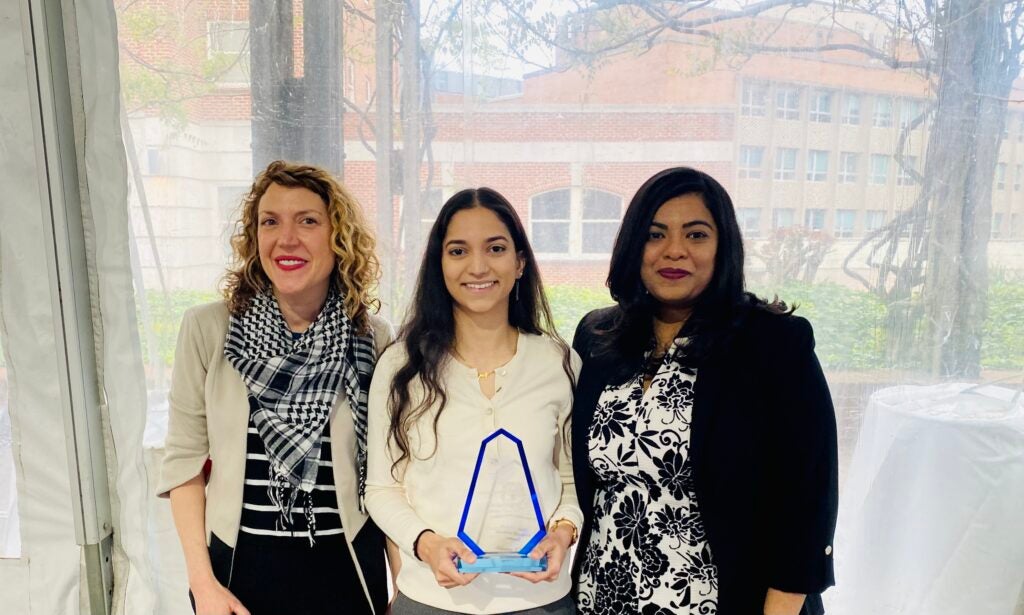 We are excited to announce that Anam Khan ('23) was awarded the Exceptional Masters Student award on Thursday evening, Apr 21, 2022, at the Graduate Student Awards Ceremony, an annual program recognizing excellence among graduate students at Georgetown University. 
This award recognizes Master's level graduate students who have demonstrated a high level of excellence in their field. This demonstration of excellence can include academic achievement, quality of their presented work, and a commitment to advancing their studies.
Anam was nominated by DSAN faculty member Purna Gamage, Assistant Teaching Professor, and Student Advisor. In her nomination recommendation, Dr. Gamage noted that: "Anam is a wonderful student who is very pleasant and very easy to work with. Her answers are very detailed and enriched, which shows her excellent academic abilities…(she) is a very active student in my class… kind and considerate."
 Anam's notable projects from this year include: an analysis using multivariate and simple linear regression to uncover relationships between political parties and gun violence incidents and the impacts of state by state gun law provisions; an analysis of LGBTQ+ quality of life, by creating a website using HTML to analyze well-being, safety, and other socioeconomic factors affecting queer individuals.
We look forward to seeing what Anam does next!