Student Perspective: From Chemistry Teacher to Data Scientist
Posted in News Story
by Katie Mead ('24)
Journey to Georgetown
My journey to data science started during the Covid-19 pandemic. I had moved from Virginia to Nashville, TN for Teach For America. My placement was in high school chemistry, and I soon found myself in a Zoom room full of eleventh-graders eager to learn (well, as eager as eleventh-graders can be). Far from my initial dreams of teaching, I committed myself to understand every student and making a virtual chemistry class as engaging as it could be. 
Teaching was an exciting, meaningful, and challenging job—I am positive that I will never have a more difficult job in my life. Teaching over Zoom presented its own challenges: mastering new educational technology and supporting students academically and emotionally in difficult circumstances. 
What I lacked in face-to-face connection with students, I got in loads and loads of online data. I became interested in creating dashboards to keep track of my students' assignment completion and mastery of standards. 

When we returned in person, I printed data binders for students to shade in squares on a grid as they mastered different concepts throughout the year. Data shows students where they are, but it also can show them a path forward. 
I soon made myself a Google Sheets guru and felt hungry for more knowledge—this led me to apply to data science programs. I was drawn to Georgetown for its mathematical rigor and, more importantly, for the personal connections the staff and students made with me as I was deciding whether to attend.
Since starting at Georgetown last fall, I have found many opportunities to engage with the data science intellectual community in DC and beyond. Throughout the semester, I frequently saw how what I was learning could be applied to the education sector. I also met a community of students from a variety of backgrounds that were hoping to use our skills for their industries. Still, I found myself missing education and especially my students.
Reconnecting with education
Last October, by maintaining contact with Valor Collegiate Academies in Nashville, my old employer, I heard of an opportunity to serve the principal as a part-time executive assistant. After securing the role, I found an incredibly special way to use my data science skills to support my Valor community from afar. While the leadership team leans on me for administrative help such as answering emails and scheduling, they also rely on me for my opinions and data analysis on issues critical to our school.
I noticed we were tracking a lot of very helpful information, but I couldn't always put it together quickly. For example, I might have noticed a student falling behind and absent more often, but I wouldn't put this information together until much later when the student flagged for serious concerns such as truancy and course failure. As a teacher, quick access to actionable information is crucial.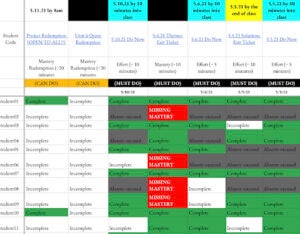 Using the data extraction and cleaning methods I perfected throughout my first semester at Georgetown, I wrote a Python script to take all the weekly data points we have for students and put them in one spreadsheet. I also wrote code to identify students who flag as "at risk" for low GPA and attendance. I also sometimes build visual reports to better communicate trends we see across grade levels and demographic groups. Teachers can now access students' home language, parent contact information, recent attendance patterns, behavior data, up-to-date grades, teacher contact history, and more all in one place.
Most importantly, this initiative never would have been successful if we didn't already have a leadership team open to radical transparency and new approaches at Valor (an appropriate name for our school and the people within it!). I met with teachers and administrators throughout my building process to get feedback about what features would be helpful and which we could do without. At DSAN Georgetown, we talk often about how important it is to know your audience and iterate multiple times on your projects so that they actually help the people they are designed to help.
I update the "Valor_student_data" dashboard every Monday night so  grade levels can use it in their team meetings on Tuesdays. This dashboard has inspired and created a new focus on contacting parents of students of concern the week after they are flagged. It also supports a new intervention aimed at closing a GPA gap between English language learners and native English speakers. I am grateful every day that the work I love, which can be technical and often not accessible, can support tangible change in a community I care for deeply.
The future of data science and education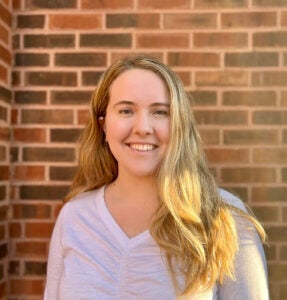 Data often gets a bad rap for reproducing biases (which is merited!). However, data can provide students, teachers, parents, and school leaders with a road map to improvement and perhaps excellence. No longer is it "you got an F" but rather "you missed questions asking you about atomic structure—let's build on that". Excellent teachers have been doing this granular data analysis since teaching has existed, but it is now much more accessible and automatic.
Today, I can use my own personal computer and programming languages that weren't around even 15 years ago to drive positive change at my school. The opportunities for data science to impact education and other issues of societal importance are growing constantly. We can now build artificial neural networks to understand how students progress in their math knowledge or create adaptive learning experiences using machine learning. The future is bright in these fields, and I am excited to play a part in it.