Georgetown Analytics Student on Winning Team at VHacks
Posted in News Story | Tagged News
---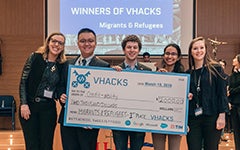 Analytics student Yanchen Wang (MS '19) was selected as a programmer for a team of five Georgetown students sent to participate in VHacks, a hackathon at the Vatican.
The three-day event brought 120 students together from around the world to "use technological innovation to overcome social barriers and embrace common values." Teams worked to develop technology solutions to social problems in three main categories, social inclusion, interreligious dialogue, and migrants & refugees.
Five Hoyas competed together in the migrant & refugee category. Analytics student Yanchen Wang (MS'19), along with Jake Glass (STIA'20) and Roisin McLoughlin (C'19), worked as the team's programmers; Lucy Obus (C'11, MA'19) was the team's designer; and Rushika Shekhar (MGHD'19) was the team's generalist. Their winning pitch for Credit/Ability proposed a software that would help migrants and refugees find housing and other services in their communities by providing them with a "creditability" score, not unlike a traditional credit score. While meeting with members of a refugee community in Rome, the team discovered that even after acquiring a source of income they were still unable to obtain housing. This was because they didn't have traditional forms of financial documentation that established a strong credit history. Credit/Ability would allow these individuals to establish a "creditability" score, incorporating any pertinent financial information available and connecting them with guarantors within their faith communities.
Georgetown University, with participation from the Maker Hub, The Global Human Development Program at the School of Foreign Service, Computer Science Department, The Massive Data Institute at the McCourt School of Public Policy, Georgetown Entrepreneurship Initiative, The Center for Social Justice, The Global Social Enterprise Initiative, The Beeck Center for Social Impact + Innovation, and the Communication, Culture & Technology Master's Program, partnered together to send the team to the Vatican City.