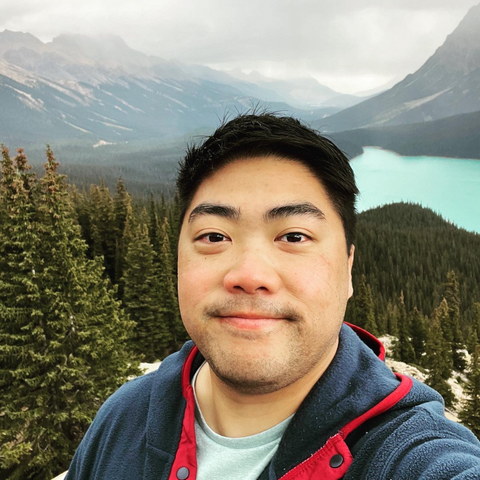 Matt Tsang
DSAN '22
Consultant at Deloitte
Hear more about Matt's experience as a part-time grad student, where he combined his love of math and data.
What has your career journey looked like since you graduated?
Entering the program, I was a full-time employee and a part-time student, so I could only take two classes per semester. Since I graduated over the summer, I have had so much time on my hands! But I did switch jobs earlier this year, so it was interesting to work, do school and look for a job on the side.
How did you manage balancing school, working full-time, and looking for a job?
For the most part, it was just buckling down and doing it. The way that my sister likes to describe it is "Looking for a new job is a job in itself." It takes a lot of effort and a lot more time than I think most people realize. Especially with data science in particular. I think a lot of big tech companies have the best idea of what a data scientist can do, so I think their job descriptions are probably much more accurate to what we like to do. But if you're looking anywhere outside of the tech industry, the job description for data scientists can range anywhere from data entry to reporting to data and engineering. And that's if you just search for "data scientist" in the job title. The reverse also holds true; some companies think they want a data engineer, but the job description actually describes a data scientist. So it's a lot more work, I think, to find what we want. Then it's just a numbers game and having a spreadsheet for all the applications and follow-up. It's about time management!!
Can you share a bit about being a consultant for Deloitte?
You enter the firm and, essentially, you are in your own separate job market within Deloitte. Then you try and find projects in which they have a role that kind of lends itself to your skill set. It's like applying for a job, casting a wide net. Right now with my client, I am currently fulfilling a data engineer role. So a lot of it is maintaining pipelines and doing some automation and just doing production work, processing data, and moving them along. Then publishing them for downstream stakeholders and helping to maintain some relationships with other third-party vendors that we're working with.
What made you decide to pursue data, science, and analytics as a career path?
My background is in applied math, and I didn't quite know what it is that I wanted to do with it. A lot of people say, "Wow! Math is so flexible you can do so many things", and that's kind of my downfall because I prefer structure. So I was sort of just applying for any job, and I landed at an IT consulting firm, where the client was Fannie Mae. It was for reporting and analytics/business intelligence role, which to me was a good starting point. It felt very adjacent to what I thought I wanted to do and would be a good pivotal point should I want to shift my focus. I was able to have hands-on experience with data. I was able to kind of get a feel for it, and after maybe three to four years of getting a lot of experience with that, in addition to working with a lot of internal customers taking on different data requests, I had a very good sense of big data, relational databases and how to interact with clients and internal customers. But I kept feeling that I didn't just want to create what people asked for, I wanted to do something more with the data. Eventually, we had a couple of financial modelers join our team. I thought, "Hmm. You know they're using a bit more math than I use day to day. And so I'm just curious as to what they do." It was from asking them questions and seeing their day-to-day work that made me think this was a natural progression for me.
Why did you choose the DSAN program?
A lot of data science programs veer off into a big concentration on application to business,I like the fact that DSAN has a core half of your curriculum and the other half you can pick and choose what you want to do, and I also liked the fact that classes are in person.
How did it feel coming into the program after working for several years?
I don't think I was really coming into the program with the mindset of, "Okay, I'll go into the program, and then I'll just shift careers entirely just to be a data scientist". I came into the program thinking, "Okay, I have a lot of stuff already in my toolbox. This degree will add a whole lot more to my toolbox. And now I can just go out in the world with the bigger toolbox and be able to kind of do whatever it is that I want to do". I came to that realization because with my previous employer my responsibility was just data reporting, but I was doing so much more than just that. So I knew that being a data scientist doesn't mean I'm just going to do data science. I have a slew of other things that come with doing a data job. My perspective was that the degree. and all the knowledge that I got from the program, was a way to help round me out even more and just help me be more flexible in terms of what I can and want to do with data.
And you felt that a master's degree was more beneficial for you than a boot camp?
Yes. I had a conversation with a director in the office of my previous employer, and asked him if he had the choice of hiring someone with a degree vs a certification what would he choose. He said that the degree is better. He shared that a certification tells him that you know the lines of code to write and you learn to push the right buttons, but you don't know what's happening and why. You don't know why you're pushing the buttons. I actually had the chance to do a bootcamp at my previous employer. I wrote the code, I followed along, and I checked the boxes, but at the end of the day, I didn't really know how to fine-tune it. I could read thousands of pages of documentation, but I didn't quite know truly what was going on. I thought a program where I have the environment to ask questions, the environment to mess up, and the environment of all the information being presented to me would probably be in my best interest.
Did you find that there was any career guidance that you got when you were in the program that helped? And did you find yourself helping others since you had already been out in the workforce?
It really helped that a lot of professors had work experience in the field. Their teaching style and the way they communicated just resonated with me. I also shared with my fellow students that visualization and communication are important. A good thirty percent of your job can be communicating outward to your manager, to higher-ups, communicating the technical speak, and then synthesizing it to what they care about. We like the data to speak for itself, we like specificity, but at the end of the day, it's communicating it, the narrative, the storyline, and then the impact of that.
What was your favorite DSAN class(es)? Why?
I loved all the core courses because they allowed me to establish relationships with my cohort. As a part-time student, I wasn't doing electives at the same time as the full-time students, so it helped me establish those relationships, especially at the height of the pandemic, and I think that was super beneficial for me. So from a friend standpoint, those are my favorite classes, because I got to work with them, and see the creativity that came out of them from a purely academic standpoint. Advanced Data Visualization (503) was the most fun for me because it was more portfolio based. Since I was a part-time student and not looking for a job, I ended up kind of picking myself as a topic. I did visualizations on things I love to do, watch, and topical things at the time. The Neural Networks and Deep Learning class was also very interesting to me from a technical standpoint because it was so far from what I already knew when I entered the program and was an exciting topic.
What were some of your best experiences at DSAN, both inside or outside of the classroom?
For me, the moments that stuck out the most were fostering those connections that I made with my classmates, anywhere from meeting up with them at the height of the pandemic and just trying to figure out how to make our final project presentation and collaborating to finally being in person.
What are you reading/watching/playing/listening to/learning right now?
Pre-pandemic my hobby was cooking. I love cooking because it's very forgiving but I was always scared of baking. Baking is a science and if you mess up you've burned the house down!! But before the pandemic, I started baking, and while I haven't really baked too much after the pandemic, I'm thinking about picking that up again. I'm also watching Survivor. I'm one of those people that can work with stuff in the background. So earlier this spring I started season one in the background while I was working, and right now I am in the middle of season thirty-one! I also watch anime. Right now I'm mostly keeping up with the popular ones like Spy x Family and Bleach.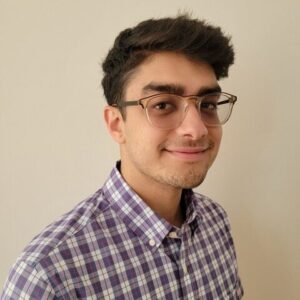 Adam Imran
DSAN '20
Intermediate Data Scientist in Network Analysis & Control at MITRE
Learn about Adam's experience at DSAN and how he works to create a better, safer world.
What inspired you to pursue a career in data science and analytics?
As an undergraduate student at the University of Wisconsin-Madison, I spent a lot of time figuring out what I wanted to pursue as a major. I came into college expecting to be an environmental science major but quickly realized it was not for me, I then shifted to Atmospheric and Oceanic Sciences, then Actuarial Sciences, and then Mathematics, ultimately realizing that what I loved the most was making meaning from numbers across all subject areas. Eventually, this led me to a statistics major. And what is modern-day statistics applied to big data… Data Science!
How did you find yourself focusing on using data to help create a safer world?
Growing up so close to Washington DC "social good", "security" and "government" were pretty much household terms. When I heard about all the great data-related work various non-profits were doing foreign and domestic, I knew that I wanted to leverage what I learned in the Data Science & Analytics programs at Georgetown in those areas. Whether it be sampling data to create food wastage mitigation programs or leveraging network analytics to reveal potentially nefarious entities, social/societal impact means the most to me.
What has your career journey looked like since you graduated?
Shortly after graduation, I started working as an Associate Data Scientist with the MITRE Corporation in the Network Analytics Department, I was placed on a variety of both MITRE's internal projects and projects for a specific Department of Homeland Security (DHS) sponsor.
Soon after my one-year anniversary at MITRE, I was promoted to Intermediate Data Scientist – Network Analysis & Control within my department. I was also given the opportunity to present at various Technical Exchange meetings for projects that I was now doing for a variety of different government agencies. And in January 2022 I became a technical lead for a MITRE innovation project.
Starting in the fall 2022 semester, I will be an Adjunct Professor for DSAN's Analytics 511 course (Probabilistic Modeling & Statistical Computing) in addition to continuing my work at MITRE.
What was the best career advice you received while in the DSAN program?
Probably a tie between "start early" and "leverage LinkedIn". Starting early gave me peace of mind that I was doing everything I could to secure a job after graduation. Although expensive, I personally found value in LinkedIn Premium because of its applicant comparison analytics and application viewing priority.
How do you use what you learned in the DSAN program at work?
Part of my day is spent coding and part of my day is spent reporting/presenting. Aside from leveraging machine learning and big data analytics on a day-to-day basis, I simply work to code efficiently, in conjunction with presenting and visualizing the findings of advanced analysis in a way that sponsors/stakeholders can understand and help solve problems for a safer world.
Technically, in my first year working I leveraged data visualization of massive data, analysis of open-source intelligence (OSINT), and natural language processing (NLP). In the past year, my technical work included Cloud/High-Performance Computing, Spatio-Temporal Data Analytics, and Rule-based Un-supervised Machine Learning like Association Rule Mining and Correlation Analysis.
What were some of your best experiences while in the program, both inside or outside of the classroom?
Until the pandemic brought everything online my favorite experiences were the DCR conference hosted by Lander Analytics at Georgetown University, getting Wisemiller sandwiches between classes, and group study sessions in Lauinger library.
What was your favorite DSAN course at Georgetown? Why?
All the courses I took at DSAN were amazing, but my favorite course was Massive Data Fundamentals (ANLY 502). Although it was new in terms of content adding to the challenge, it was a lot of fun, and the completion of every assignment was very satisfying given all the moving parts with regard to running AWS clusters and running programs in distributed environments. I think what stuck out to me the most was the fact that the scale and processing power used in the class were very applicable to real-world data streams.
Why did you choose the DSAN program and why would you recommend it to prospective students?
I chose this program for 3 main reasons. First, this program was the only one to have separate courses for the data science areas I was most interested in coming out of undergrad: Machine Learning, Massive Data analysis/processing, and Data Visualization. Second, the DSAN program gave me to opportunity to work part-time, TA, and get involved with research affording me the ability to get the true graduate school experience. Third, having grown up in Northern Virginia, Georgetown University was always known as a world class school with a great reputation. Those three main reasons combined made this program the obvious choice!
What are you reading/watching/playing/listening to/learning right now?
In my free time, I like to read philosophy, play the guitar (mostly finger-style), play squash, make pizza, play with my cat, and watch The Fast and Furious movies. I cannot wait for Fast X! Recently I bought a small electronic drum set that I use to make beats and improve my rhythm.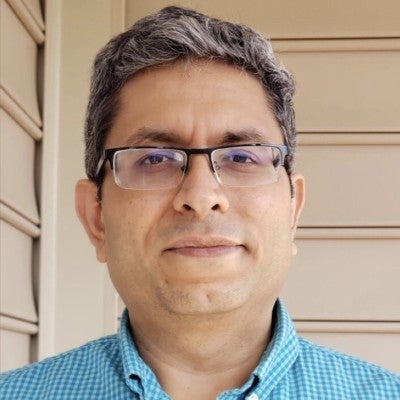 Amit Arora
DSAN '18
Principal Solutions Architect at Amazon Web Services in Strategic Accounts
Hear about Amit's non-traditional path to earning his MS at 40.
It took me two and half years (5 semesters) to complete the 10 course (30 credit) program. I graduated with a GPA of 3.97. This would not have been possible without the support of family. My wife was basically a single parent for our two sons (now 9 and 5) for a good part of the two years [ that I was in school]. My sons, who initially could not understand why was it that papa was the one who was always studying whereas they were the ones who were in school, ultimately convinced themselves that papa studies because he loves doing homework!
For me, the decision to go back to school and that too graduate school wasn't exactly a planned or even a well thought of decision. It was just something I went ahead with and somehow one by one things started falling in place as if this was something that was always meant to happen. There is this line from a Bollywood film that summarizes my thought process (or lack of it) in this case "सोच गहरी हो जाये तो इरादे कमज़ोर हो जाते हैं", Google translates this (rather literally, but aptly) to "when thoughts become deep, the intentions become weak". I gave little thought to how would I manage time between family, work and university, cost of the program and also would I be able to cope up with the hard academic requirements given that last time I was in a university was 16 years ago (it was the year of the Y2K bug) and in a different country (India).
The semesters whizzed past one after another, each 12 week or so semester was like one of those super high speed rides in an amusement park, you know that you are going to survive and that it will be over before your heart fails, so just hang in there. I usually had two (sometimes three) classes a week, the rest of the weeknights were all homework nights, weekends were homework days and nights. Georgetown being a Jesuit institution is extremely academic, written mid term exams, take home mid term exams, written finals, take home finals, final projects, project presentations, project paper submissions, video presentation of the final project and for some courses all of the above! Of course all this was in addition to weekly or biweekly assignments. There was one thing though, I had to make one major adjustment and that was understanding that academia is different from the industry and it took me a good one year to make peace with the idea that assignments are not like requirements document of a product and therefore the questions could be (sometimes purposefully) vague (use your best judgement, I was often told), lecture notes could have errors (books have errata, so what?), semester projects could reach dead ends because the hypothesis did not hold and that was OK.
Work wise, I ploughed back in as much learning from the program as I could into starting new projects that could demonstrate business value, kept on demo'ing small proof of concept data science applications whenever I got a chance, and I think managed to create enough buzz around the topic which matched what was happening all around in the industry. All my projects at school were on work related topics that I could take back with me and this also meant that I did almost all my projects in a team of one. As the program entered its last phase I transitioned into a full time data scientist role in the same company as I thought I could provide unique value by marrying my domain expertise in telecommunications with my new found data science knowledge.
The time I spent at Georgetown was an incredibly rewarding experience. The joy of learning something new, the sense of accomplishment at being able to finish all the assignments and projects on time, the nervous energy before an exam, the sinking feeling that attending multiple holiday parties and preparing for two finals and projects and poster sessions all at the same time maybe isn't such a good idea, and so many other bitter sweet experiences gave me memories of a lifetime. There is however, something much more profound that I realized while attending classes with 20 somethings and that is that a place of learning does not age, it feeds off the youthful energy of the students who study there, combined with their desire to seek new knowledge they keep the university forever young, forever full of life and it rubs on to you as well. Would I do it all over again, you bet.